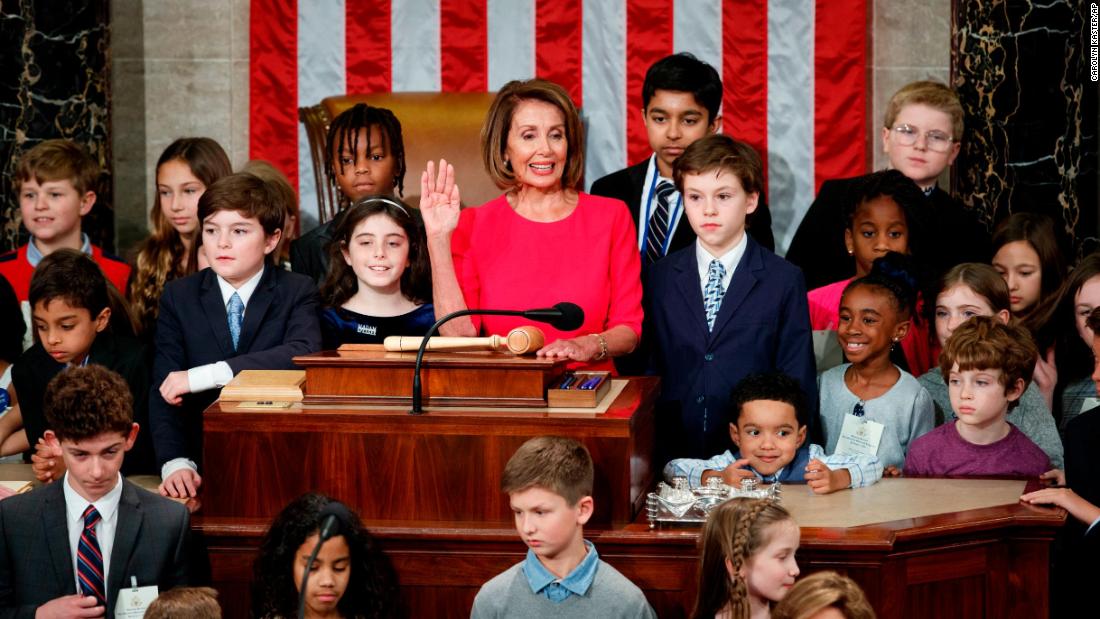 New York (CNN Business)A version of this article first appeared in the "Reliable Sources" newsletter. You can sign up for free right here.
Suffice to say, Paul Ryan's letter didn't say any of that last year.
All week long, Pelosi has been signaling to Trump — and to the public — that things will be very different now. When asked, in an interview with the NYT, "if she considers herself Mr. Trump's equal,"
she replied,
"The Constitution does."
Sheryl Gay Stolberg's story also noted that Pelosi "is marking her return to power with a string of events, including a women's tea, a dinner at the Italian Embassy featuring the singer Tony Bennett and a town hall-style meeting, televised on MSNBC." That town hall with Joy Reid will air Friday at 10 p.m. ET…
Thursday's news coverage captured the importance of the change. NBC at 6:30: "Power shift." CBS: Government divided." ABC: "New balance of power."
One day after the midterm election, "Trump stole Pelosi's thunder with a 90-minute presser. Here's a second attempt," Eliana Johnson tweeted during the press briefing that wasn't a briefing on Thursday.
Let's be clear: Press secretary Sarah Sanders misled the press corps when she tweeted at 4:07 that there would be a "briefing" at 4:10. She shouldn't have said that.
"You're welcome here anytime, Mr. President," a reporter said as Trump walked in the briefing room for the first time.
Trump evidently is not confident enough to take questions from the press corps right now. "It's not a press briefing if you don't take questions," CNN's Kaitlan Collins said right afterward…
So which cable channel had the right approach? This has been an issue ever since inauguration weekend, when Sean Spicer came to the briefing room and condemned the press corps. CNN didn't carry his rant live that day. Oliver Darcy will have more on this issue on Friday…
A reader named Mark emails: "No radio show takes callers without the old '7 second delay' to dump the caller or 'bleep' the caller. Trump desperately needs a 10 minute delay. Record the press scrum, then edit it down to salient points (if any), or just report that the POTUS went off half-cocked (again) with B.S. & lies."
— I'm told that HBO's statement from when Trump first tweeted the "GOT" poster still applies: "We prefer that our trademark not be misappropriated for political purposes."
This standoff was summed up by two quotes on Thursday. Pelosi, speaking on the Hill, said "We're not doing a wall. Does anybody have any doubt that we are not doing a wall?" And VP Mike Pence, speaking to Tucker Carlson on Fox, said "Bottom line, if there's no wall, there's no deal."
And a banner on "Erin Burnett OutFront" said "U.S. DEBT REACHES NEW HIGH (TRUMP CAMPAIGNED ON CUTTING IT)"
"60 Minutes" is promoting its interview with Egyptian President Abdel Fattah el-Sisi as "the interview Egypt's government doesn't want on TV." Scott Pelley recently sat down with el-Sisi, and the Egyptians evidently objected to some of the Q's about "jailing his opponents to maintain his regime and the massacre of 800 civilians by Egypt when he was Defense Minister."
Read more: https://www.cnn.com/2019/01/03/media/reliable-sources-01-03-18/index.html